On painting trees, folded landscapes and travelling within the Soul...
I paint these trees a while back, maybe 16 years ago.
I am glad they survived my frenzy to burn my art work with most of my moves. I remember starting to paint these trees when living in Brussels, and for whatsoever reasons, I couldn't travel to Brittany, to the beautiful beach where these trees are.
I remember waking up a morning my heart aching for these landscapes, for this light, for the salty smell of the air. My body started to ache too, the feeling of the wind and the cold sun on my skin missing on my system.
With pain and tears, I stood and pick up some paper laying around and my dark blood transformed into the dark ink. I stand there closing my eyes and travelling back to this place, feeling my bare foot in the sand, hearing the sea coming and going. I saw the trees, moving with the wind, their shadows playing with the clouds and changing the landscape infinitely.
And with a breath, my hands drawn them like a caress.
And for some times standing there in this moment, I felt my body freed from the pain, and I was offered the gift to enjoy the beauty of this dear place to me.
I found release, I found comfort, I found peace and I found joy.
I transformed the pain for a time being with my closed eyes and my spirit moving to the land I was longing for.
I forgot about that time, it resurfaced as I saw the drawings lying in the paper jungle. I was stoked that I knew already how to transform the pain into inner journey to pleasure and it brought me back even further.
I remember being a child and being fascinated by my father's maps collection, I guess he dreamed of travels too and that was his way to access them.
I remember opening these beautiful folded landscapes and imagining my fingers being my body, moving through infinite territories.
I will close my eyes and be on that land, feeling the air, the light, the smells.
I remember the feelings impregnating my body in this divine communion with the Spirit of the Land.
I had a very sweet and tender smile as I discovered these drawings bringing me back magical memories. A form of initiative rite of passage for a possibility within my own body.
Oh Spirits are so loving and kind.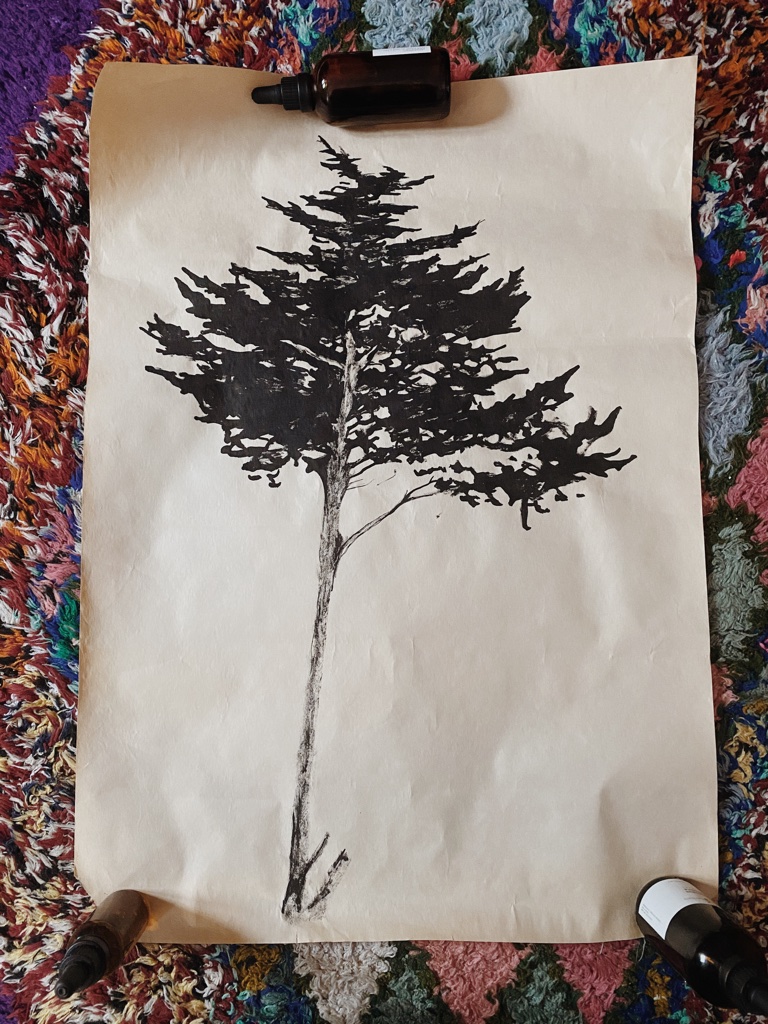 As I rediscover these stories, these landscapes, these initiatory rites, I am being remembered of these omnipresent relationships if only we give them a little attention.
I am reminded how precious these relationships are to me, how they have been of so much support throughout my life.
I am reminded of the reasons for my words, for my intention in these times to share again and again about these practices that are deeply embedded into our bones, that are weaved into our DNA.
These practices that are accessible to all of us because they have brought humankind alive to these days.
These ancestral ways that never truly disappeared and yet are coming back into our lives for us to navigate this current time of collective Dismemberment, shaking out the poison and the unnecessary; remembering enchantment as our birth right, as our life's gift to co-create an enchanted world.
I do not fool myself or fellows pretending it is an easy way that is all about love and light.
It is about love though, the unconditional love for ourselves, our children, our elders, our Humanity, the love for Life and the love for the mother of All, our planet Earth.
And it is about dedication and service for our humankind, for our life on Earth as sovereign Beings.
And we are reminded that we are supported to explore the suffering and shadow aspects of ourselves and our humanity in order to engage in restoration.
There is an invitation to release the harm we caused and received, and to Remember the essence of our Humanity and our capacity of transformation. We know restoration, regeneration, when we looked at unbothered Nature, we can witness and we can learn about the beautiful symphony between the species of mycelium, plants and animals, chanting with the Elements and the Moon and the Sun, all of them like in unison, supporting a process of decomposition to create a better soil for all to thrive.
It is all here, all around us, if only we engage into a path of revelation, a path of Truths.
Humbled by life and grateful for the gift,
Caroline